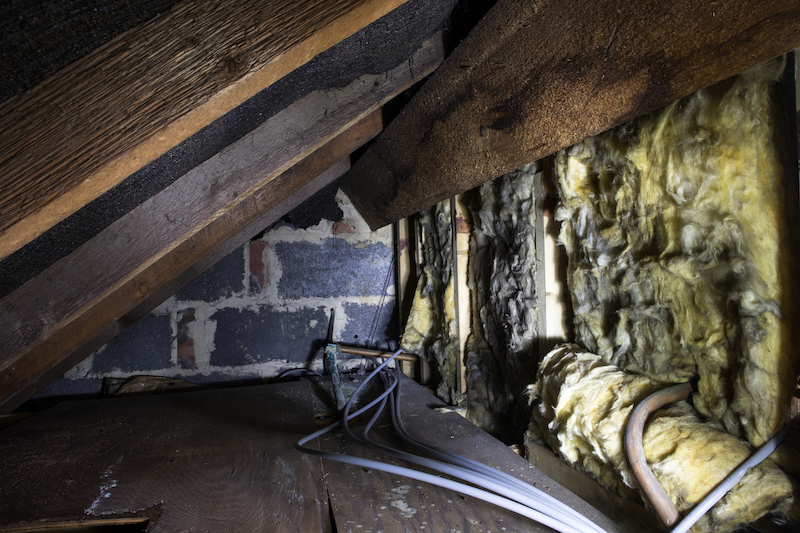 Attic insulation isn't something a lot of homeowners keep a regular account of. It is often one of those "set it and forget" it aspects of a home here in the Atlanta, GA area, especially for those that inherited the existing insulation in their home when they moved in. But did you know, that the insulation in your attic can directly impact the stability of your indoor temperatures all year round? At Arbor Insulation, when customers come to us asking "why won't my home ever stay cool?", the first thing we discuss is attic insulation. 
The Effects of Poor Insulation
Because traditional fiberglass insulation can remind many homeowners of a fuzzy blanket or a comfy, furry jacket, it is a common misconception that insulation only helps keep the heat inside your home during Atlanta's winter months. But the real reason your home has insulation is to prevent the transfer of heat through the walls, basement or crawlspace, and attic of your home. Proper insulation should both keep your much needed heat inside during the winter, as well as keep all the summer heat outside when the warmer months arrive. 
When the insulation in your attic deteriorates or is damaged over time, you will experience a number of symptoms in your home. Here are a few signs to look out for that your attic insulation might be lacking, and costing you more on your energy bills month after month. 
Signs Your Attic Insulation is Lacking
1. Higher Than Expected Energy Bills
If your energy bills are much higher than last year or have been continually on the rise, it could very well mean your heating and cooling system is working much harder than it needs to keep up with your thermostat setting.  Proper insulation should keep the air from your air conditioner and furnace where you need it: in your living space!
2. Uncomfortable and Inconsistent Indoor Temperatures
Are you making frequent trips to the thermostat, puzzled that the 72º reading doesn't really feel like 72º? Or maybe the temperature from room to room is wildly different. Proper attic insulation should create a thermal boundary around your home, keeping temperatures consistent.
3. Feeling a Little…Drafty?
Indoor drafts can be another symptom of inconsistent room to room temperatures and inadequate attic insulation. Hot air will follow cold air, wherever that may be. You may know this concept as "heat rises", but to get technical heat moves from warm air to cool air. So if you have a cool and comfortable room upstairs and a stuffy, hot room downstairs, the heat from downstairs will want to flow through the air in your home up to the cooler room. These are the drafts you are feeling, which can be remedied with proper attic insulation for more stable overall temperatures. 
4. Excess Moisture or Pest Infestations
Have you had to fix a roof leak, a burst pipe, or eradicate a pest from your home? Water causes devastating damage to insulation, requiring insulation replacement. And there are many pests that are known to make the soft and warm areas of your wall and attic insulation their home. These pests include:
Mice 

Rats

Roaches

Small birds

Other insects
Is It Time To Remove Your Old Insulation?
If your home was built before 2009, it is worth considering removing your insulation. Back in 2009, most energy codes across the country were updated to increase the recommended amount of insulation installed during construction.  The team at Arbor Insulation can inspect your attic to make sure it isn't contaminated with rodent urine and feces, or damaged from excess moisture. We will then use our insulation removal machines to quickly and thoroughly remove your deteriorated insulation correctly, giving you a clean slate for the installation of your upgraded insulation, like our AirTight360 spray foam product! You may even qualify for valuable rebates and financial incentives through Georgia Power EarthCents Insulation Rebates & Tax Credits.
Schedule a Free Home Diagnostic Test & Estimate!
If you find yourself looking at your rafter insulation and wondering if it is having an effect on your energy bills and overall home comfort, it's time you get answers to all of your insulation questions. Get in touch with Arbor, the insulation experts serving the needs of homeowners across the greater Atlanta area, and schedule a free home diagnostic test. We will assess your attic and rafter insulation, and provide you with an estimate on what it will take to lower your energy bills all year round!
Wondering if your attic insulation is outdated and ineffective? Take control of your indoor temperatures with a free home diagnostic test. Call Arbor Insulation today to get started.