Improve your home's comfort and start saving energy today.
Blown-in Insulation: An Efficient, High-quality Option For Atlanta Area Homeowners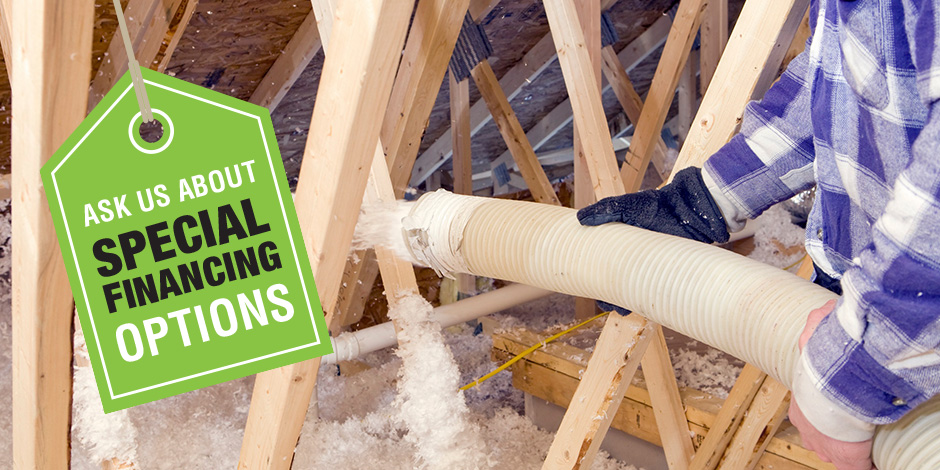 Blown-in insulation or loose-fill insulation can be made with several materials, including fiberglass, rock wool, and cellulose. It comes in a variety of forms, such as shreds, granules, and nodules. Blown-in insulation is most commonly used in attics while fiberglass batt insulation is installed in wall cavities or vaulted ceilings.  Using blown-in insulation in attics is cost-effective. It saves money and reduces energy costs.  Around the Atlanta metro area, Arbor Insulation Solutions installs cellulose or fiberglass insulation.
SPECIAL FINANCING OPTIONS NOW AVAILABLE!
Ask us about 6 months same-as-cash financing

*
Stay warm & comfortable all this winter
Call Us Today at 404-728-0001
*Minumum job size of $3,000
Second option: 5 years at 6.99%; A $5000 project would cost just $99/month!
(Our average job is a little less than $4K)
A Variety of Benefits
Loose-fill or Blown-in insulation is an efficient, high-quality option for homeowners. Take note of the following benefits:
Installed quickly – Our insulation blowing machines are designed to install fiberglass or cellulose loose fill insulation quickly.  A typical machine can blow in up to 35 bags of fiberglass in one hour!  We make this process quick and simple for you.
Reduces noise – The more insulation you install the quieter your home will be.
Environmentally friendly – We use recycled products for our blown-in insulation, which means that you can feel good about its environmental impact.
Formaldehyde Free – Our products are safe and do not contain any formaldehyde.
Cost-effective – If you're looking for a cost-effective and efficient option, blown-in insulation could be the choice for you.
When looking for a cost-effective, energy saving option for your home, take some time to consider blown-in insulation as the material to use. It is widely available, quick to install and can even be hypoallergenic for those who deal with bothersome allergies.
R-Value
The ability of insulation to prevent heat from leaking in or out is described as its "R-value". The higher the R-value, the better it insulates.
The R-value you will need depends on your climate zone (see map & chart below). Atlanta residents are in zone 3.
| Zone | Attic | Cathedral Ceiling | Wall Cavity | Wall Sheathing | Floor |
| --- | --- | --- | --- | --- | --- |
| 1 | R30 to R49 | R15 to R22 | R13 to R15 | None | R13 |
| 2 | R30 to R60 | R22 to R38 | R13 to R15 | None | R13 to R25 |
| 3 | R30 to R60 | R22 to R38 | R13 to R15 | None to R5 | R25 |
| 4 | R38 to R60 | R30 to R38 | R13 to R15 | R2.5 to R6 | R25 to R30 |
| 5 | R38 to R60 | R30 to R60 | R13 to R21 | R2.5 to R6 | R25 to R30 |
| 6 | R49 to R60 | R30 to R60 | R13 to R21 | R5 to R6 | R25 to R30 |
| 7 | R49 to R60 | R30 to R60 | R13 to R21 | R5 to R6 | R25 to R30 |
| 8 | R49 to R60 | R30 to R60 | R13 to R21 | R5 to R6 | R25 to R30 |
Save Money with Blown-In Attic Insulation
The professionals at Arbor Insulation Solutions can help you select the best option to keep your home and your family comfortable and running smoothly. We are dedicated to providing you with the best service and the best quality materials. For more information about blown-in insulation and our "No Settle" guarantee, contact us today at (404) 728-0001.
See How Much You Can Save!
Or Call 404-728-0001