The right insulation saves you money & energy.
Make sure your home is comfortable & efficient.
Upgrade Your Insulation Now For Comfort and Efficiency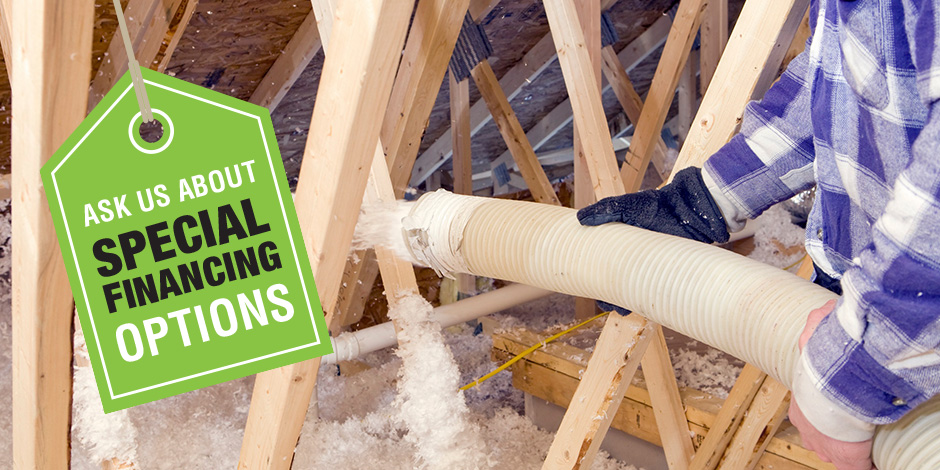 Proper home insulation is essential for Atlanta homes and offices. Home insulation acts as a barrier to prevent heat loss in the winter and heat gain in the summer, particularly in roofs and ceilings, walls and floors.
SPECIAL FINANCING OPTIONS AVAILABLE!
Ask us about 6 months same-as-cash financing

*
Stay warm & comfortable all this winter
Call Us Today at 404-728-0001
*Minumum job size of $3,000
Second option: 5 years at 6.99%; A $5000 project would cost just $99/month!
(Our average job is a little less than $4K)
The Importance of Home Insulation
Half of the energy used to heat or cool homes and offices can simply leak out without proper insulation. With the help of Arbor Insulation Solutions you can benefit from:
A more consistent temperature – reducing use of heating and cooling systems
Money savings – by lowering utility bills
Eliminating hot or cold zones – and drafts that will improve comfort at home
Adding Sound Dampening– making rooms quieter
Types of Home Insulation
Arbor Insulation Solutions offers a wide variety of home insulation products to meet each individual's needs and budget, including:
AirTight360 Hybrid Spray Foam Insulation – Our AirTight360 system offer spray foam performance without the hassle! It usually costs 40% less than a regular spray foam job and incorporates air sealing that will perform for the life of your home.
Spray Foam Home Insulation – popular form of insulation and commonly used in attics, floors and walls to reduce air leakage and provide sound dampening.
Blown In Home Insulation – usually made of fiberglass, rock wool, or cellulose that comes in shreds, granules, or nodules. These small particles are blown into attics and places where it is difficult to install other types of insulation.
Rigid Foam Home Insulation – effective and versatile , especially where space is limited and where higher R-values are needed. Most often used in basement or crawlspace walls as well as on vaulted ceilings or bonus room knee walls.
Radiant Barrier Home Insulation – Radiant barriers are commonly installed in attics, primarily to reduce summer heat gain and reduce cooling costs. The barriers consist of a highly reflective material that reflects radiant heat rather than absorbing it. However, they don't reduce heat conduction like thermal insulation materials.
Rolls and Batts or Blanket Home Insulation – flexible products made from mineral fibers, such as fiberglass and rock wool. This is the most common type of insulation found in walls and floors.
R-Value
The ability of insulation to prevent heat from leaking in or out is described as its "R-value". The higher the R-value, the better it insulates.
The R-value you will need depends on your climate zone (see map & chart below). Atlanta residents are in zone 3.
| Zone | Attic | Cathedral Ceiling | Wall Cavity | Wall Sheathing | Floor |
| --- | --- | --- | --- | --- | --- |
| 1 | R30 to R49 | R15 to R22 | R13 to R15 | None | R13 |
| 2 | R30 to R60 | R22 to R38 | R13 to R15 | None | R13 to R25 |
| 3 | R30 to R60 | R22 to R38 | R13 to R15 | None to R5 | R25 |
| 4 | R38 to R60 | R30 to R38 | R13 to R15 | R2.5 to R6 | R25 to R30 |
| 5 | R38 to R60 | R30 to R60 | R13 to R21 | R2.5 to R6 | R25 to R30 |
| 6 | R49 to R60 | R30 to R60 | R13 to R21 | R5 to R6 | R25 to R30 |
| 7 | R49 to R60 | R30 to R60 | R13 to R21 | R5 to R6 | R25 to R30 |
| 8 | R49 to R60 | R30 to R60 | R13 to R21 | R5 to R6 | R25 to R30 |
Why Arbor Insulation Solutions?
We are Home Performance experts
Competitive pricing
High quality materials
We treat every home like our own
Atlanta Area Home Insulation Services Include:
Protection of valuables (floor, corners of walls, landscaping, etc)
Removal of old insulation (if necessary)
Installation or adjustment of baffles to maintain proper airflow
Addition of insulation to meet or exceed building codes
Consultative approach to assist you in selecting the right solution
Safety Check and Testing
Determining what type of insulation and how much to use depends on many factors in your home or office, your goals and the amount of money you want to spend. Our experts can devise a plan to meet your needs and budget.
See How Much You Can Save!
Or Call 404-728-0001